---
PIETRA BROWN AND METALLICO WHITE GOLD STRUCTURED
The Pietra doors offer an alternative to the Beton concrete range. More textured and more colour consistent than the Beton concrete fascias, the Pietra doors offer a more subtle and nuanced solution with a beautiful tactile surface. The island features the new brown finish, one of a trio of new colours we have just launched.
The Metallico range represents the latest avant-garde trend for industrial metal finishing. Shown here in the beautiful new white gold metal in the structured finish. A stunning tangible feel with elegant metallic swoops and subtle detailing. Hand made with 8 layers of metal lacquer.
A modular shelving unit completes the set which is perfect for today's open plan and easy access living. Entirely flexible with a multitude of options and available in multiple different lacquer and veneer finishes. The aluminium vertical profiles can be supplied in a choice of titanium or burnished brass.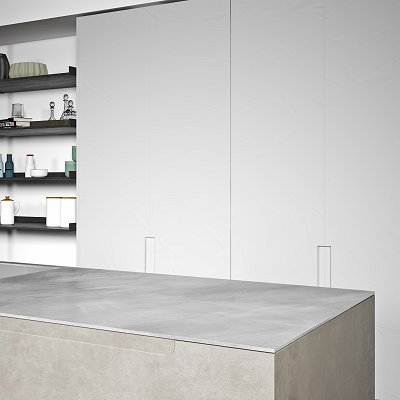 Design
Open J profile drawers with 45 degree mitred ends, marry with mitred panels to create a monolithic cube design.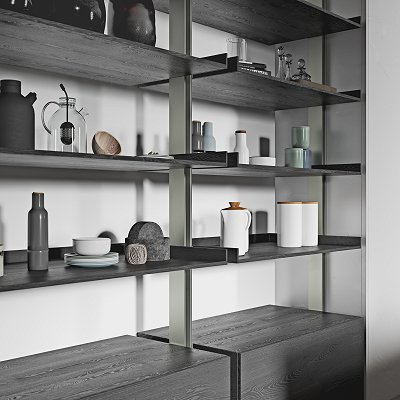 Form and Function
Modular shelving system shown with titanium aluminium verticals and grey lacquered oak veneer. Tall unit doors in white gold Metallico structured with open J profile handles.